How does a company increase its customer base and most of such customers continue through the years as highly loyal customers? In the case of Etezazi Industries the process can be easily identified: Its mission and core values are not just words to be in this website or marketing literature, they are embedded in every action of the company and all team members.  It reads:
This statement translates in a constant pursuit of excellence, beginning with adherence to its ISO 9000 processes and procedures, continuance of upgrading and reinvestment in equipment and facilities, paying special attention to a balanced combination of seasoned professionals and degreed engineers (many with masters degrees and Ph. D candidates) to bring cutting edge knowledge and technology to the delivery of its products. Customers can easily find a sound group of professionals to discuss challenges and find solutions to a rapidly changing and highly technical industry by interacting with always available members of the Etezazi Industries, Inc. team.
 As a diverse manufacturing company we have the ability to use various types of manufacturing equipment such as CNC Mills, Lathes, Mill-Turns and Mechanical Break to manufacture complex multi axis parts as well as sheet metal parts for our customers. We offer advanced capabilities for customer service by adopting the 5S Philosophy.
Etezazi Industries' focus is on effective work place organization and standardized work procedures. The 5S philosophy simplifies our work environment, reduces waste and non-value added activity while improving quality, efficiency and safety to help create a lean effective company.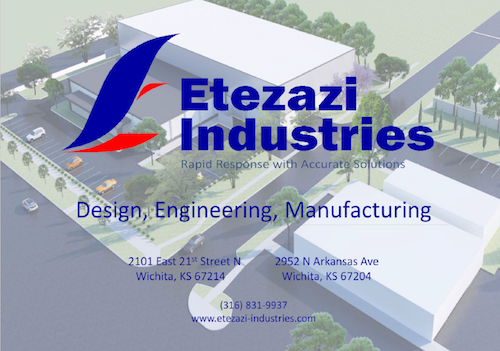 ---